What If Managing Your Web Presence And Growing Your Digital Business Was As Easy As Using Your Phone?
Do you own a cellphone? Most people do.
Like most cellphone users, you probably know how to use your phone and don't need to hire technical experts to perform 'phone-related' activities on your behalf.
Phone users can manage their accounts, configure and optimize their phone settings, customize the look and feel of their device, access, share, and transfer information, create, publish, post, and update content online, engage with other users, upload media to the cloud, download and install apps, delete unecessary files, and do everything else they need to get the results they want.
Contrast this with owning a website and building an online presence.
Many businesses own websites they can't manage or run without the help of technical experts to perform 'digital-related' activities on their behalf.
Most businesses – especially small businesses — also lack basic digital skills to manage and grow their business online and many end up becoming hostages of outsourced technical service providers like website developers and digital marketers.
Imagine This …
Imagine for a moment how much more productive, competitive, efficient, and cost-effective your business or organization would be if everyone in your team could help manage your web presence and grow your digital business as easily as they can use their phones.
What would happen, for example, if every member of your team could perform the activities below competently and expertly without the need to hire outside help or outsource the work to experts:
Access your web hosting server, use server management features, set up new email addresses and email forwarders, etc.
Upload, download, and transfer files, documents, media, etc. between your computer, your web hosting server, and your cloud storage service.
Set up, manage, run, and automate search optimized digital marketing and lead generation campaigns that were fully integrated with your website, social media accounts, email marketing service, sales and marketing funnel, analytics and reporting tools, etc.
Produce, upload, publish, and edit content online across different media formats (e.g. web articles, blog posts, images, videos, downloadable reports, etc.)
Perform backups, software updates, optimization and security checks on your website
Install and configure a new website blog, e-commerce store, directory, membership site, forum, private customer training site, etc.
Add new features or enhance the existing functionality of your sites.
Improve the look, feel, and layout of your website's design.
And more!
No Coding, Web Programming, Or Technical Skills Required!
Most people think they need to have coding, web programming, or technical skills to build a website and to manage and grow an online presence.
You don't!
As described in our About Us page, this site and everything you see here was built and is managed by someone with no coding, programming, or technical skills.
Technology Is Becoming More "End-User" Friendly!
You can easily build a website and manage and grow an online presence with no coding, web programming, or technical skills (and do it all at minimal cost) once you understand that, just like using a cellphone, web technologies are becoming more "end-user-friendly" — e.g. intuitive interfaces, visual menus, wizards, one-click installs, auto-setups, click and drag, option selectors, shortcodes, configurable add-ons, widgets, apps, and plugins, customizable templates and themes, integration with AI-based tools, and so on.
The most important skill you need to grow a business online and achieve the results you want, therefore, is knowing how to put everything together.
This is where training comes in. WPMasterclasses.com provides video training courses designed to show non-techies how to put everything together with no technical skills required.
WordPress Makes It Possible!
WordPress is the world's leading platform for building websites and for publishing and managing content online. WordPress powers over 30% of all websites, so if your business has a website, it was probably built using WordPress (Learn how to tell if your site was built with WordPress).
If your business is run by non-techies (i.e. non-web developers) and your website is powered by WordPress, the good news is that anyone in your team can easily manage all aspects of your web presence without the need to outsource to technical experts. WordPress does all the heavy lifting for you!
WordPress lets you add new features, expand functionality, change the entire look and feel of your site, update software, and backup all files and data to the cloud with just a few clicks.
WordPress also lets you automate your digital management and marketing processes and integrate your website with all kinds of marketing strategies — content marketing, social media marketing, email marketing, video marketing, mobile marketing, affiliate marketing, etc.
(WordPress is the ideal platform for businesses that want to manage and grow their online presence!)
All this can be easily done … when you know how!
Learning how to use WordPress is not so different from learning how to use your phone … all you need is access to training that shows you how to get things done. Our video training courses are available online 24/7 so you can learn at your own pace. Most video lessons also include links to detailed step-by-step tutorials, additional resources, and downloadable files and guides to help you master the topic.
WPMasterclasses.com Makes It Achievable!
WPMasterclasses.com gives you access to dozens of video courses with over 1,000 video lessons focused on teaching you how to use WordPress and to help you acquire the essential digital skills your business needs to grow and succeed online.
(Learn WordPress and essential digital skills with our video training courses)
Our training not only makes it achievable for anyone in your business to learn how to build, set up, manage, optimize, secure, grow, and automate your online presence, we also make the training very affordable, especially for small businesses, home-based and micro businesses and anyone planning to start a business or take their business online.
You can purchase access to specific courses or subscribe to our 'All Access Pass' membership and get access to ALL video courses (existing and future) for a low annual subscription …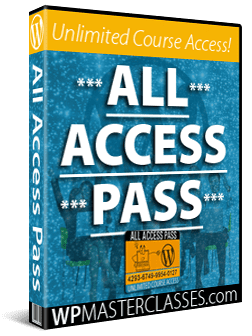 Get unlimited 24/7 access to ALL WordPress and digital business skills video courses and over 1,900+ video tutorials on WPMasterclasses.com for a low
Read More
$37.00 / monthSign Up Now
With WPMasterclasses.com's self-paced WordPress and digital business skills video courses showing you how to connect everything together, managing your web presence and growing your business online will become as easy as using your cellphone.
For more information, click on the course images above to learn more about each course, visit our FAQ section, or contact us if you have any questions.
***
[thrive_leads id='6715′]
Image source: Pixabay